Elise Sport
The Elise is a pure-bred sports car, offering exhilarating top-down motoring at an affordable price. Power is provided by an eager 1.6-litre engine, a lightweight in-line four, producing 134 hp with impressive CO2 emissions of just 149 g/km*. In simple terms, supercar performance combined with city car economy. The engine continuously controls valve timing and lift to vary the volume of airflow, ensuring optimal performance based on the engines operational condition. Access this performance via a 6 speed manual transmission with sports ratios.
All alloy, 1.6 litre DOHC 4 cylinder , dual VVT-i and Valvematic, 16 valve: 0-60 mph 6 seconds, 0-100 km/h 6.5 seconds, 0-100 mph (0-160 km/h) 18.6 seconds.Max speed 127mph (204 km/h) FUEL CONSUMPTION: MPG (L/100km) Urban 34.0 (8.3), Extra Urban 56.0 (5.0), Combined 45.0 (6.3), CO2 emissions (g/km) 149*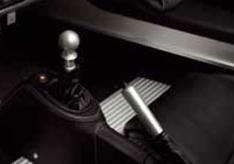 6 Speed manual
Put yourself in complete control of the driving experience with the slick shifting 6 speed manual transmission, featuring sports ratios perfectly matched to the engine configuration and driving dynamics.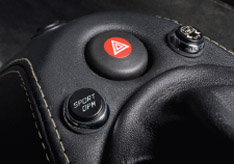 Dynamic performance management
Lotus DPM (Dynamic Performance Management) adds to the Elise's world leading handling by offering extra stability when the high levels of grip are exceeded. A selectable Sport mode takes DPM one step further, allowing the driver to safely explore the limits further still.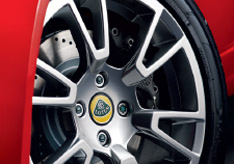 Wheel & tyres
A range of specially selected lightweight alloy wheels subtly enhance the way your car looks and drives. These are mated to bespoke compound Yokohama AD07 tyres specifically developed to produce a tyre that works in perfect harmony with the suspension and chassis.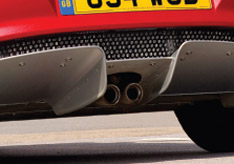 Read diffuser
The Elise' aerodynamic styling incorporates a unique rear diffuser design that both harmonises airflow underneath the rear of the car, and also provides clean and efficient lines to the underbody, with the exhaust system exiting through its middle.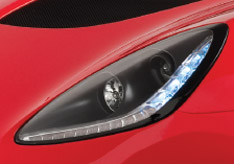 Headlamps and rear lights
The highly distinctive headlamps incorporate hi-tech LED daylight running lights and indicators, while the rear LED brake light cluster is instantly recognisable.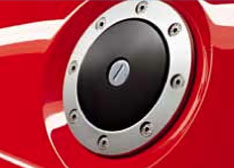 Elegant detailing
Function is not at the sacrifice of form on the Elise. Wherever you look on you will find attention to detail, such as the machined aluminium petrol filler cap.