Elise Sprint
Ensuring that this latest Elise remains true to the company's DNA, the return for the Sprint badge – as used on historic models including the Elan – is designed to provide a highly attractive super-lightweight option sitting above the Elise Sport. Featuring a host of weight-saving items as standard, the new Elise Sprint offers the latest in efficient engineering to deliver a car that sets the standard at under 800 kg.
Offering 134 hp / 160 Nm of torque, the 1.6-litre naturally aspirated engine of the Elise Sprint has been specifically tuned to deliver a benchmark power-to-weight ratio and class leading efficiency. The car's reduction in weight translates into quicker acceleration with 0-60 mph in 5.9 seconds, harder cornering and a power to weight ratio of up to 168 hp / tonne. Being so lightweight, emissions are extremely low with 149 g CO2 / km. Stopping power is provided by AP Racing twin-piston front calipers and Brembo single-piston rear-calipers – optional lightweight two-piece brake discs are also available. Like all Elise, the Elise Sprint benefits from Lotus' Dynamic Performance Management (Lotus DPM) with user selectable driving modes.
The Sprint edition of the Lotus Elise has removed 40 kg from the previous model, to reach a benchmark dry weight of just 798 kg. The Elise Sprint's standard lightweight components include a Lithium-Ion battery, saving 9 kg, Lotus' beautifully detailed carbon race seats, 6 kg, new lightweight forged alloy wheels, 5 kg, while the carbon access panel, roll hoop cover and engine cover, and polycarbonate rear screen save 6 kg. Collectively they cut an impressive 26 kg, compared to the previous Elise Sport. and Optional two-piece brake discs (available from May), saving 4 kg, a well as optional carbon sill covers enable to reduce the weight even further.
Featuring the Elise's distinctive new styling, the Elise Sprint integrates a new front and rear aesthetic. External design touches for the Sprint range include a matt black transom panel, black wheels which come with custom contrasting metal spun rims, distinctive yet subtle side stripes on the bodywork and unique side and rear badging. The Elise Sprint also receives a wide range of cabin enhancements – including the lightweight open-gate gear select mechanism first introduced on the Lotus Exige Sport 350. Other highlights comprise bodywork keyed colour inserts for the sports seats, transmission console and HVAC surround, along with Sprint badge stitching. The Sprint's detailing continues inside with an array of optional Alcantara® trim panels on the doors, sills, seats and vents surrounds, all with contrasting stitching.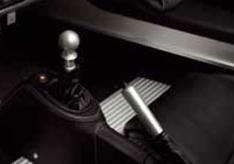 6 Speed manual
Put yourself in complete control of the driving experience with the slick shifting 6 speed manual transmission, featuring sports ratios perfectly matched to the engine configuration and driving dynamics.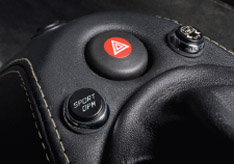 Dynamic performance management
Lotus DPM (Dynamic Performance Management) adds to the Elise's world leading handling by offering extra stability when the high levels of grip are exceeded. A selectable Sport mode takes DPM one step further, allowing the driver to safely explore the limits further still.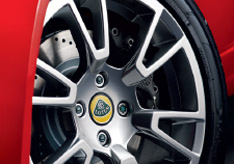 Wheel & tyres
A range of specially selected lightweight alloy wheels subtly enhance the way your car looks and drives. These are mated to bespoke compound Yokohama AD07 tyres specifically developed to produce a tyre that works in perfect harmony with the suspension and chassis.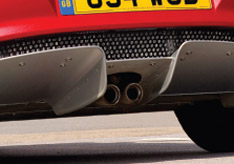 Read diffuser
The Elise' aerodynamic styling incorporates a unique rear diffuser design that both harmonises airflow underneath the rear of the car, and also provides clean and efficient lines to the underbody, with the exhaust system exiting through its middle.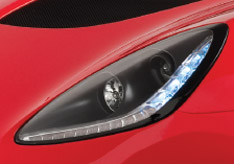 Headlamps and rear lights
The highly distinctive headlamps incorporate hi-tech LED daylight running lights and indicators, while the rear LED brake light cluster is instantly recognisable.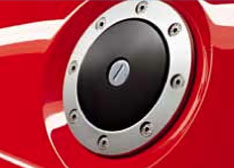 Elegant detailing
Function is not at the sacrifice of form on the Elise. Wherever you look on you will find attention to detail, such as the machined aluminium petrol filler cap.